144 McDaniel Ave., Pickens, SC 29671
E-mail: pickensswcd@gmail.com
Phone number - 864-878-6155
We are a working field office, so our in-office hours vary Monday-Friday. When you plan to visit the office, please call 864-878-6155 to make sure someone will be available to welcome you or you can e-mail us to schedule an appointment.
We look forward to your visit!
The Pickens Soil and Water Conservation District is
dedicated to natural resource conservation in Pickens County since 1937.
Help us continue this mission by donating now!
2019 NACD Poster, Essay & Photo Contest Theme:
"Life In The Soil: Dig Deeper"
The National Conservation Contest is open to Kindergarten—12th Grade students. Homeschool, Private and Public Schools are welcome to participate. Sponsored by: Pickens County 4-H, Farm Bureau, Pickens County Stormwater Partners, Clemson Extension, and Forestry. Please contact Pickens Soil & Water Conservation District for more details at: 864-878-6155.
BANKS RECEIVES OUTSTANDING LEADERSHIP AWARD
Michael W. Banks of Anderson, District Conservationist with the USDA Natural Resources Conservation Service, was recently named recipient of a '15 over 50' Outstanding Leadership Award presented by the Anderson INDEPENDENT MAIL.
The INDEPENDENT MAIL recognized 15 individuals in the upstate area who are 50 years of age or older and who have experienced success in their professional careers, are active in philanthropic and community service organizations, and are helping shape young leaders of the future.
Banks, a native of Chester and a 1977 graduate of Clemson University with a BS degree in Agricultural Economics, has served as District Conservationist in Anderson County since 1994. He has been named the Outstanding District Conservationist in South Carolina twice by the State Office of the Natural Resources Conservation Service during this time. He has also received the Honorary State FFA Degree by the SC FFA Association.
A dynamic leader in conservation, Banks serves as the professional advisor to the Anderson Soil & Water Conservation District and to the land owners and users in Anderson County. He also serves as a member of Clemson University's Advisory Committee on Soils and Sustainable Crop Systems and is a member of the Advisory Committee to the Anderson County Extension Service. He regularly assists agricultural educators with FFA soil judging competitions at the local, regional and state levels. A respected mentor to student trainees preparing for a career with the Natural Resources Conservation Service, he is a successful trainer of new conservationists employed by the agency.
Among his many long-term impacts in the community, Banks is widely recognized for his assistance to the Anderson Soil & Water Conservation District and Anderson County in the design, layout and construction aspects of the William A. Floyd Amphitheater. The outdoor facility is among the largest in South Carolina and can seat 15,000 people.
Banks was nominated for the '15 over 50' Outstanding Leadership Award by John W. Parris of Columbia, retired Executive Director of the former SC Land Resources Commission, presently serving as director of the SC Agri-News Service.
In observance of South Carolina Arbor Day on December 4, 2015, some Pickens County Students planted a tree.
Teddy Bear Magnolia trees were donated by King's Sunset Nursery. Teddy Bear Magnolia origin is from Seneca, SC. It was propagated and named by Head lee Nursery. Now it is grown through the United States.
If you would like to know how to get your school, teachers, students, and children involved in education activities please contact Pickens County Natural Resources Education Council at 864-878-6155. PCNREC consists of Pickens Soil & Water Conservation District, Clemson Extension, Pickens County 4-H, Farm Bureau, and Forestry. Education activities are sponsored by United States Department of Agriculture, Natural Resources Conservation Service, SC Department of Natural Resources, and the National Association of Conservation Districts.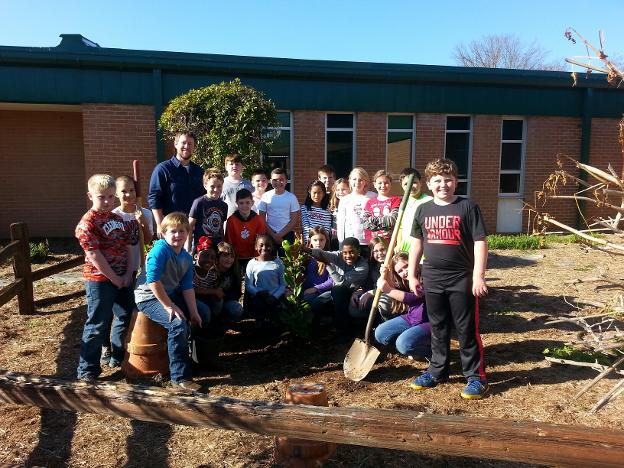 Pictured above is Ben Fowler's 4th Grade Class at Forest Acres Elementary School in Easley. The tree was planted at the entrance of the school office.
Pictured below is Andy Little and Cindy Gravely's 6th Grade Classes observed by three 8th Grade Students at the Youth Leadership Academy in Pickens. The tree was planted where outdoor classes are held.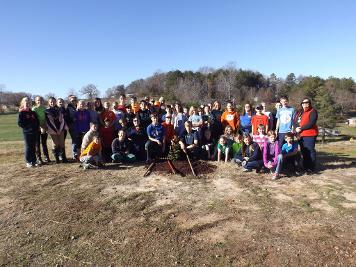 The NRCS offers voluntary programs to eligible landowners and agricultural producers to provide financial and technical assistance to help manage natural resources in a sustainable manner.
Through these programs the agency approves contracts to provide financial assistance to help save energy, improve soil, water, plant, air, animal and related resources on agricultural lands and non-industrial private forest land. Please visit their website, www.sc.nrcs.usda.gov, or call our office, 864-878-6155, for more information.
Learn about No-Till Drilling and how you can improve your soil, add organic matter, retain moisture and have greater yields. Learn More >
Soil is a living and life-giving natural resource. As world population and food production demands rise, keeping our soil healthy and productive is a paramount importance. So much so that we believe improving the health of our Nation's soil is one of the most important conservation endeavors of our time. NRCS
Pickens Soil and Water Conservation District
144 McDaniel Ave. PO Box 245
Pickens, SC 29671
864-878-6155