Address: 144 McDaniel Avenue
Pickens, SC 29671
E-mail: pickensswcd@gmail.com
Phone number: 864-878-6155
We are a working field office, so our in-office hours vary Monday-Thursday. If you plan to visit the office, please call to make sure someone will be available to welcome you or you can e-mail us to schedule an appointment.
We look forward to your visit!
The Pickens Soil and Water Conservation District is dedicated to natural resource conservation in Pickens County since 1937
Help us continue this mission by donating now
We are excited to announce that Governor Henry McMaster has issued a Governor's Proclamation proclaiming April 25 – May 2, 2021 as Soil and Water Stewardship Week! This falls in line with the NACD National Soil and Water Stewardship Week.
Receiving this Governor's Proclamation is a huge recognition of our Soil and Water Conservation Districts and the mission of conservation by the Governor. Credit for this idea goes to the SC Association of Conservation Districts Legislative Committee who brought the idea of a Governor's proclamation forward. A big thank you goes to the SCDNR leadership who worked with the Governor's office to get this proclamation recognizing Soil and Water Stewardship Week on behalf of Conservation Districts.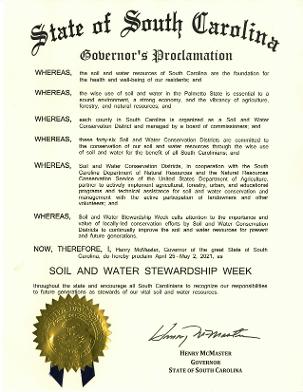 2021 HEALTHY FORESTS, HEALTHY COMMUNITIES STEWARDSHIP WEEK


Our friends at NACD have provided some excellent resources below with templates and information for celebrating Soil and Water Stewardship Week!
Seed Library is now open!!!

Chairman, Roddey Gettys, III of the Pickens Soil & Water Conservation District board, along with Jean Toole, President of the Sarlin Library Friends, cut the ribbon for the opening of the Seed Library on Saturday, March 20, 2021!

The Pickens County Library System and the Pickens County Soil & Water Conservation District have partnered to bring a seed library to the Sarlin Library in Liberty.
Anyone with a library card will have access to free vegetable, herb, and flower seeds. Seeds will be stored in a vintage, card catalog cabinet.
For more information, please visit: pcls.fyi or call the Sarlin Library at 864-843-5805.
Visit the Seed Library at the Sarlin Library and take home up to five packets of seeds. Choose from multiple varieties of vegetable, flower, and herb seeds including heirloom varieties.
Seed packets come with planting instructions for when to plant, spacing, light requirements, and more.
The Seed Library was created in partnership with the Pickens County Soil and Water Conservation District to:
provide education on growing food and flowers

promote nutrition

promote sustainable gardening practices
Thanks to the Pickens County Soil & Water Conservation District for their support!
Vegetables & Fruits
Bean Beet Broccoli Brussel Sprouts
Cantaloupe Carrot Cucumber Lettuce
Okra Onion Peas Peppers Pumpkins
Squash Tomato Watermelon
Herbs
Basil Chives Cilantro Dill
Flowers
Sunflowers Zinnia Wildflowers
Congratulations to the following School District of Pickens County Teachers:
In Honor of Outstanding Performance
Brent Adcox ~ Gettys Middle School Jim Davidson ~ Daniel High School
Kelli Abernethy ~ Six Mile Elementary School Melissa Nolan ~ Six Mile Elementary School

Congratulations to the Winners of the NACD Education Contest:
"Where Would We BEE Without Pollinators?"
Essay Contest
K -5th
1st Place Carter Atcheson
6th – 8th
1st Place Vicky Wen
2nd Place Breanna Davis
3rd Place Keira Page
Photo Contest
K – 5th
1st Place Carter Atcheson
2nd Place Reese Townsend
6th – 8th
1st Place Riley McPherson
2nd Place Alexis Johnson
3rd Place Alice Cunningham
9th -12th
1st Place Sada Dempsey
Poster Contest
K – 5th
1st Place Reese Townsend
9th – 12th
1st Place Sada Dempsey
Poster by: Reese Townsend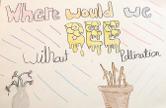 Photo by:
Carter Atcheson


Photo by:
Riley McPherson


Photo by:
Alice Cunningham

STREAM BANK REPAIR PROGRAM
Clemson Extension is requesting input for a new Stream Bank Repair program. This program will be offered in Winter 2020 and is intended for homeowners, land managers, municipal staff, and landscape professionals. This program will address unhealthy stream banks suffering from erosion and instability that result in adverse effects to water quality. It is important that we better understand what information is lacking on stream bank repair and the best way to offer a program to these audiences. We'd appreciate your input and ask that you share this information with other professionals and homeowners. Please click on the link below for additional information.
https://www.clemson.edu/extension/water/stream-bank-repair.html
Rain Barrel at South Carolina Botanical Gardens.
Haley Parent, ©2020, Clemson Extension
RAIN BARRELS: A FAMILY OR HOUSEMATES ACTIVITY
During this unprecedented time of social distancing and stay at home orders, it is the perfect time to consider making something together with your family or housemates that have a purpose and benefits the environment. Bonding over a fun and useful project will create memories, provide you with an item that you can utilize for years to come, and offer a rewarding experience that will hopefully inspire other valuable projects. One such activity is to make or purchase a rain barrel and then paint it to be uniquely yours. The rainwater that flows from a roof can be collected in a rain barrel and used for many purposes. By collecting the rainwater in a barrel, a practice known as harvesting rainwater, and using it around your home, you are helping conserve water resources, decreasing the potential for downstream contamination, and saving money. Did you know that 1000 square feet of roof and 1 inch of rain, can generate 600 gallons of water? You can minimize stormwater pollution by diverting this water into your barrel, so it does not run overland picking up contaminants and carrying it to waterways.
To find a good location for your barrel, and to identify potential uses, walk around your yard in search of areas that you can use the harvested rainwater. Look for areas around your roofline where there are signs of erosion or flooding. You can save money by using the collected rainwater for some of the chores around your home instead of tap water. Here are a few ideas:
• Use the water for irrigation of both indoor and outdoor plants including gardens, potted plants, and window boxes
• Use the water in birdbaths and feeders
• Use the water to clean garden equipment, patio furniture, bikes, cars, boats, and pets
Please note: do not drink water from rain barrels, and special considerations are necessary if harvested water is to be used for edible plants. To learn more about making, using, and painting rain barrels, rainwater harvesting, and use of harvested rainwater on edible plants, check out the following resources:
HGIC 1729 Rainwater Harvesting Systems Guidance for Schoolyard Applications
HGIC 1851 Carolina Yards: An Overview of Sustainable Landscaping Practices
HGIC 1728 Best Practices for Application of Harvested Rainwater on Edibles
Rainwater Harvesting for Homeowners
CC How to Build Your Own Rain Barrel
If this document didn't answer your questions, please contact HGIC at hgic@clemson.edu or 1-888-656-9988.
Author(s)
Susan Lunt, Water Resources Agent, Pickens County, Clemson Extension
Rain Barrel at Pickens County Education Building.




Susan Lunt, ©2020 Clemson Extension
Completion of Twelve Mile Watershed Upgrades
Pickens Soil & Water Conservation District would like to first and foremost sincerely Thank Pickens County Council for their help with funding the cost of the needed repairs and upgrades on the seven Twelve Mile Watershed flood control dams. In addition, Pickens Soil & Water Conservation District would also like to Thank~ Pickens County Emergency Management, NRCS, SCDHEC and McCall Brothers Diving for their assistance and help on the completion of upgrades. The flooding disaster that hit our state in 2015 made us more aware of the need to keep all of the flood control dams in proper operating condition.
All of the new hardware installed in the watershed structures was inspected by USDA-NRCS and SC DHEC personnel. Dam safety is the art and science of ensuring the integrity and viability of dams such that they do not present unacceptable risk to the public, property and the environment. The Pickens Soil and Water Conservation District is dedicated to the safety of the residents in Pickens County!
THANK YOU:
Pickens County Council, Pickens County Emergency Management, NRCS, SCDHEC & McCall Brothers Diving
In observance of South Carolina Arbor Day on Friday December 6, 2019, the Pickens Soil & Water Conservation District along with Kings Sunset Nursery worked together in donating three Kousa Dogwood trees to the Youth Leadership Academy of South Carolina located in Pickens, SC. The students celebrated South Carolina Arbor Day by planting the trees on their school campus.
Thank You Kings Sunset Nursery and Youth Leadership Academy of South Carolina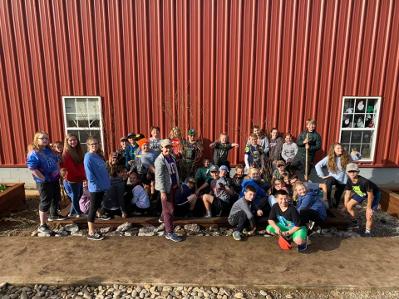 SOIL CONDITIONING – ESTABLISHING A SUCCESSFUL GARDENING FOUNDATION
The soil is often referred to as the "foundation of life". The foundation must strong and healthy before great things can be developed. Most garden and landscape soils have poor soil texture and often lack organic matter, one of the most important additions any gardener can make.
The soil is a medium comprised of mineral elements, soil particles, water, and living organisms, all of which are important to the overall health of the soil. The three primary soil particles are sand, silt, and clay. The relative percentages of these components present make up the soil's texture. Texture is important to overall soil and plant health as it relates to soil porosity space, the pore spaces where air and water reside. The ideal soil texture is balanced mix of sand, silt, and clay particles, also known as a loamy soil. In most cases the particles will not be balanced and the soil will need to be altered by adding amendments. To evaluate soil texture, use a simple jar test to determine the percentages of sand silt, and clay.
For more information on the soil jar test, check out this video at the Clemson Extension Virtual Raingarden https://www.clemson.edu/extension/raingarden/virtual_rain_garden.html.
For all your Home & Garden needs please visit: https://hgic.clemson.edu/
Learn about No-Till Drilling and how you can improve your soil, add organic matter, retain moisture and have greater yields. Learn More >
Soil is a living and life-giving natural resource. As world population and food production demands rise, keeping our soil healthy and productive is a paramount importance. So much so that we believe improving the health of our Nation's soil is one of the most important conservation endeavors of our time. NRCS
The NRCS offers voluntary programs to eligible landowners and agricultural producers to provide financial and technical assistance to help manage natural resources in a sustainable manner.
Through these programs the agency approves contracts to provide financial assistance to help save energy, improve soil, water, plant, air, animal and related resources on agricultural lands and non-industrial private forest land. Please visit their website, www.sc.nrcs.usda.gov, or call our office, 864-878-6155, for more information.
Funding Available For Cold Storage Cost Share Program
COLUMBIA – The South Carolina Department of Agriculture (SCDA) and the South Carolina Specialty Crop Growers Association announce the Cold Storage Cost Share Program, funded through the United States Department of Agriculture's (USDA) Specialty Crop Block Grant.
Through this program, farmers are eligible for a reimbursement of up to $750 for installing a Cool-Bot cooler system for the holding of specialty crops. This system can be used on an affordable walk-in cooler powered in conjunction with a standard air conditioning unit. The Cool-Bot system uses multiple sensors, a heating element, and a programmed micro-controller to direct the air conditioner's compressor to cool the room to 36°, without ever freezing up.
Eligible farmers must meet and agree to the following criteria:
Must be a South Carolina farmer

AND

must grow specialty crops.
Attend a food safety workshop hosted by SCDA or Clemson Extension. Proof of attendance must be provided in application for reimbursement.
Sign an affidavit with SCDA to ensure cold storage unit will be used solely for the handling, holding, and distribution of specialty crops.
Provide primary source documentation for all expenditures related to installation of the cold storage technology unit.
Enable an on-site audit by key SCDA personnel to authenticate cold storage technology is being used solely for specialty crops.
Provide data, information, statistics and/or testimonials after six and twelve months of installation of the cold storage unit to SCDA for tracking project success.
While there isn't a due date to apply for reimbursement, funds are limited. For more information, contact SCDA's Emily Joyce at 803-734-2224 or ejoyce@scda.sc.gov.
Pickens Soil & Water Conservation District
144 McDaniel Avenue Pickens, SC 29671
Phone: 864-878-6155
Email: pickensswcd@gmail.com