144 McDaniel Ave., Pickens, SC 29671
E-mail: pickensswcd@gmail.com
Phone number - 864-878-6155
We are a working field office, so our in-office hours vary Monday-Friday. When you plan to visit the office, please call 864-878-6155 to make sure someone will be available to welcome you or you can e-mail us to schedule an appointment.
We look forward to your visit!
The Pickens Soil and Water Conservation District is
dedicated to natural resource conservation in Pickens County since 1937.
Help us continue this mission by donating now!
FARM AND LANDOWNER WORKSHOP
WEDNESDAY, MAY 15, 2019
5:30 – 7:30 P.M.
DINNER PROVIDED! NO COST TO ATTEND! Please Register—Space is Limited
Please RSVP to SCACED: 843-579-9855 ext. 202 or email rebecca@scaced.org
Pickens Soil & Water Conservation District is excited and looking forward to co-hosting the Farm & Landowner Workshop! Call or Email today to reserve your spot!
PICKENS COUNTY FARM BUREAU
5017 MOOREFIELD MEMORIAL HWY
PICKENS, SC 29671
HOSTED BY:
Pickens Soil & Water Conservation District
Oconee Cultivation Project
Rural Resource Coalition SC
SC Association for Community Economic Development (SCACED)
2019 NACD Poster, Essay & Photo Contest Theme:
"Life In The Soil: Dig Deeper"
The National Conservation Contest is open to Kindergarten—12th Grade students. Homeschool, Private and Public Schools are welcome to participate. Sponsored by: Pickens County 4-H, Farm Bureau, Pickens County Stormwater Partners, Clemson Extension, and Forestry. Please contact Pickens Soil & Water Conservation District for more details at:
864-878-6155 or Clemson Extension 864-878-1394
Pickens Soil & Water Conservation District, Oolenoy Watershed, and Georges Creek Watershed
Swears in Elected Commissioners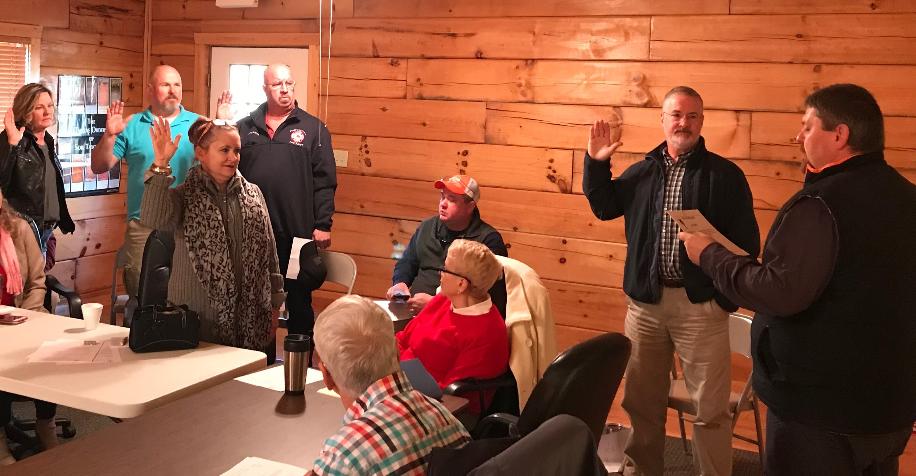 Congratulations and Welcome to the newly elected Commissioners! Pictured left to right (standing): Amy Wilson ~ Pickens Soil & Water Conservation District, Matthew Chappell ~ Oolenoy Watershed, Toni Vitanza ~ Pickens Soil & Water Conservation District, Andy Anderson ~ Oolenoy Watershed, Eddie Crittendon ~ Georges Creek Watershed, and Chris Workman ~ SC DNR
Pictured below: Left to right, Kristina Lane and Jeff White~Oolenoy Watershed is sworn in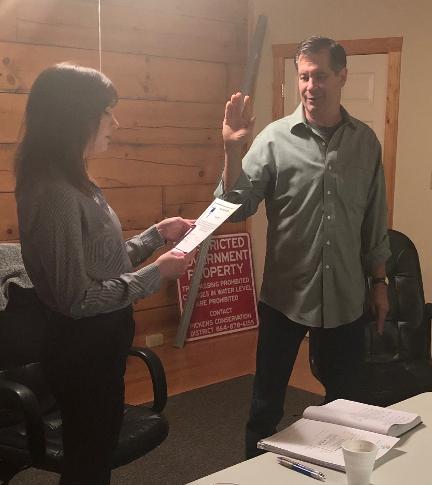 BANKS RECEIVES OUTSTANDING LEADERSHIP AWARD
Michael W. Banks of Anderson, District Conservationist with the USDA Natural Resources Conservation Service, was recently named recipient of a '15 over 50' Outstanding Leadership Award presented by the Anderson INDEPENDENT MAIL.
The INDEPENDENT MAIL recognized 15 individuals in the upstate area who are 50 years of age or older and who have experienced success in their professional careers, are active in philanthropic and community service organizations, and are helping shape young leaders of the future.
Banks, a native of Chester and a 1977 graduate of Clemson University with a BS degree in Agricultural Economics, has served as District Conservationist in Anderson County since 1994. He has been named the Outstanding District Conservationist in South Carolina twice by the State Office of the Natural Resources Conservation Service during this time. He has also received the Honorary State FFA Degree by the SC FFA Association.
A dynamic leader in conservation, Banks serves as the professional advisor to the Anderson Soil & Water Conservation District and to the land owners and users in Anderson County. He also serves as a member of Clemson University's Advisory Committee on Soils and Sustainable Crop Systems and is a member of the Advisory Committee to the Anderson County Extension Service. He regularly assists agricultural educators with FFA soil judging competitions at the local, regional and state levels. A respected mentor to student trainees preparing for a career with the Natural Resources Conservation Service, he is a successful trainer of new conservationists employed by the agency.
Among his many long-term impacts in the community, Banks is widely recognized for his assistance to the Anderson Soil & Water Conservation District and Anderson County in the design, layout and construction aspects of the William A. Floyd Amphitheater. The outdoor facility is among the largest in South Carolina and can seat 15,000 people.
Banks was nominated for the '15 over 50' Outstanding Leadership Award by John W. Parris of Columbia, retired Executive Director of the former SC Land Resources Commission, presently serving as director of the SC Agri-News Service.
Learn about No-Till Drilling and how you can improve your soil, add organic matter, retain moisture and have greater yields. Learn More >
The NRCS offers voluntary programs to eligible landowners and agricultural producers to provide financial and technical assistance to help manage natural resources in a sustainable manner.
Through these programs the agency approves contracts to provide financial assistance to help save energy, improve soil, water, plant, air, animal and related resources on agricultural lands and non-industrial private forest land. Please visit their website, www.sc.nrcs.usda.gov, or call our office, 864-878-6155, for more information.
Funding Available For Cold Storage Cost Share Program
COLUMBIA – The South Carolina Department of Agriculture (SCDA) and the South Carolina Specialty Crop Growers Association announce the Cold Storage Cost Share Program, funded through the United States Department of Agriculture's (USDA) Specialty Crop Block Grant.
Through this program, farmers are eligible for a reimbursement of up to $750 for installing a Cool-Bot cooler system for the holding of specialty crops. This system can be used on an affordable walk-in cooler powered in conjunction with a standard air conditioning unit. The Cool-Bot system uses multiple sensors, a heating element, and a programmed micro-controller to direct the air conditioner's compressor to cool the room to 36°, without ever freezing up.
Eligible farmers must meet and agree to the following criteria:
Must be a South Carolina farmer

AND

must grow specialty crops.
Attend a food safety workshop hosted by SCDA or Clemson Extension. Proof of attendance must be provided in application for reimbursement.
Sign an affidavit with SCDA to ensure cold storage unit will be used solely for the handling, holding, and distribution of specialty crops.
Provide primary source documentation for all expenditures related to installation of the cold storage technology unit.
Enable an on-site audit by key SCDA personnel to authenticate cold storage technology is being used solely for specialty crops.
Provide data, information, statistics and/or testimonials after six and twelve months of installation of the cold storage unit to SCDA for tracking project success.
While there isn't a due date to apply for reimbursement, funds are limited. For more information, contact SCDA's Emily Joyce at 803-734-2224 or ejoyce@scda.sc.gov.
Soil is a living and life-giving natural resource. As world population and food production demands rise, keeping our soil healthy and productive is a paramount importance. So much so that we believe improving the health of our Nation's soil is one of the most important conservation endeavors of our time. NRCS
Pickens Soil and Water Conservation District
144 McDaniel Ave. PO Box 245
Pickens, SC 29671
864-878-6155