Stream Bank Stabilization Program
November 10th 9:30 am - 2:30 pm
Location: Pleasant Ridge Camp and Retreat Center
4232 Highway 11 Marietta, SC 29661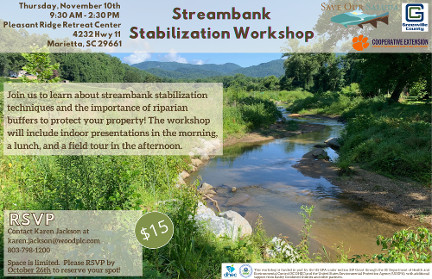 Save Our Saluda and Clemson Extension are teaming up to host a Streambank Stabilization Workshop on Thursday, November 10th in northern Greenville County. The workshop will include an indoor morning session with speakers on topics including methods for repairing eroding stream banks, controlling exotic invasive species, and for establishing, enhancing, and maintaining riparian buffers to protect stream bank property and downstream water quality.
Partner organizations will share information on local programs, available technical and financial assistance, and other available resources. Lunch is included and an afternoon field trip to a nearby stream restoration project site will also be offered. Space is limited.
Who: Landowners in the Upper Saluda Watershed
Why: To learn about streambank stabilization techniques
Cost: $15 (includes lunch)
RSVP: by October 26th To RSVP or for questions, please contact Karen Jackson at karen.jackson@woodplc.com (803-798-1200) or Katie Collins at klaltma@clemson.edu (803-848-8164).
Stream Bank Repair Program
Clemson Extension is requesting input for a new Stream Bank Repair program. This program is intended for homeowners, land managers, municipal staff, and landscape professionals. This program will address unhealthy stream banks suffering from erosion and instability that result in adverse effects to water quality. It is important that we better understand what information is lacking on stream bank repair and the best way to offer a program to these audiences. We'd appreciate your input and ask that you share this information with other professionals and homeowners. Please click on the link below for additional information.
© Copyright Pickens Soil and Water Conservation District